JD opens door to Australia, NZ
The country's second-largest e-commerce site JD has officially opened its Australia and New Zealand headquarters in Melbourne, Australia as it accelerates expansion in overseas markets amid fierce competition from Alibaba Group Holding Ltd and Amazon.com Inc.
JD will offer Australian and New Zealand brands and retailers access to Chinese consumers through JD's exclusive partnership with Tencent Holdings Ltd, the owner of popular Chinese social networking platform WeChat.
The regional headquarters, which is based in the heart of Melbourne's business district, will provide low-cost and high-efficiency commodity circulation solutions for small and medium-sized enterprises in Australia.
"Our customers have rising demand for high-quality products from Australia and New Zealand, and this move is a major step toward meeting that demand," said Liu Qiangdong, JD's chairman and CEO.
Winston Cheng, head of JD's international operations, said: "Australian and New Zealand brands are in strong demand on JD, especially in the categories of food, agriculture, dairy and cosmetics. The move will help local products access that demand.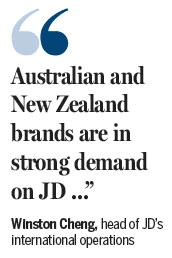 "We look forward to strengthening and promoting the trading relationship between these two countries and China," Cheng added.
Statistics showed that sales of cosmetics and personal care products made in Australia surged 1,000 percent in 2017 on JD compared with the same period last year. Australian brands such as Devondale, Swisse and Penfolds are among the most popular with JD consumers.
Almost exactly one year ago, JD's biggest rival Alibaba launched its Melbourne office. Lyu Haoze, an analyst at China E-Commerce Research Center, said the move will further expand JD's influence and brand awareness in the global market, and intensify competition among major e-commerce players.
Apart from the two countries, JD has stepped up its efforts to expand its presence in Europe, the United States and Southeast Asia.
The company will launch its first European e-commerce platform and delivery services in France, with plans to roll out to the United Kingdom and Germany, according to Liu. In the UK, JD will also open an artificial intelligence research center in Cambridge and offices in London.
JD is also preparing to operate in the United States by the end of the year, starting in Los Angeles. It wants half of its revenue from overseas within a decade and "we will continue to invest until we achieve our goal," Liu said in an interview.
In Southeast Asia, JD launched its Indonesia business in 2015 and formed its joint venture with Thai conglomerate Central Group to enter Thailand in 2017. In January, it made a strategic investment in Tiki.vn, Vietnam's leading business-to-consumer e-commerce platform.
Source: chinadaily